Going up or down stairs is no small feat for puppies. It is even a colossal challenge. As these photos prove.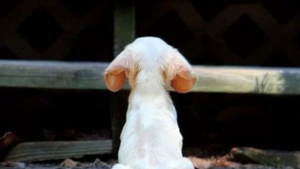 For puppies, the first step of the stairs is not without great effort. Indeed, these little furballs see the steps of the stairs as mountains that they have to climb.
Here are 10 photos of puppies for whom climbing stairs is their first big step.
1. This Dachshund puppy is convinced that his elongated morphology will allow him to climb the step without any problem
2. A young Pembroke Welsh Corgi wondering if anyone ever made it to the top of the stairs
3. The first step will not be easy for this English Bulldog puppy who could use a helping hand.
4. French Bulldog triplets who seem lost between all those endless steps and stairs
5. This little furball wonders if these stairs are for him or if he should wait until he grows a little
6. For this tiny Beagle, all you have to do is find a way to get his hind legs up, and you'll be done.
7. A Golden Retriever teaching her little one how to climb the stairs, one by one
8. 2 adorable Siberian Husky puppies helping each other up the garden step
9. A 2-way operation that seems to work for them
10. If going up a step is difficult, how about when you have to come down without crashing face down?

By Alexander God
Chief Editor
A graduate of a Master in Writing, Alexandre has been a dog lover since a very young age. After growing up with many dogs, this adorer of the Beaucerons unearths you every day the news that will move you and inform you about our favorite companions.