The Mastiff has everything to please and fascinate dog lovers. As you can see in these photos.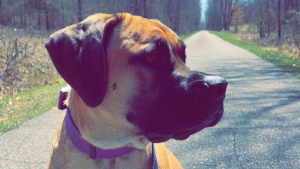 Molossers often have a reputation for being big balls of love despite their impressive size. This is the case of the Mastiff which is exceptionally gentle and endowed with a big heart. Blending easily into family life, this dog is an exceptional pet.
Here are 20 photos of Mastiffs that have everything to win the hearts of dog lovers.
1. Visits to the vet are a cakewalk for this Mastiff pup
2. Something very appetizing is being served if this salivating dog is to be believed.
3. Sleeping giants look like little angels
4. This Mastiff and his owner get down on the floor when they have a conversation
5. This dog's face is so adorable that it would convince those who were still hesitant to adopt a Mastiff to take action
6. The gang of canines demands a little debriefing regarding the choice of treats their owner just bought them
7. A couple of old Mastiffs who do not miss a day of sunshine to enjoy the great outdoors on the terrace
8. This puppy doesn't seem very happy to have to wait for his veterinarian who is slow to come and take care of him.
9. With eyes so sparkling and full of love, this dog will break any heart
10. Here's an adorable puppy licking his lips after devouring the surprise treat his owner gave him.
11. This dog is way too sad to see that the sun hasn't come out.
12. A walk in the middle of the forest that can only delight this nature lover
13. This dog has no desire to leave all that grass to take the path that will lead him to his house.
14. Adorable faces who are far too lazy to do anything
15. The canine tribe has just set its sights on the contents of their owner's meal tray.
16. An adorable Mastiff puppy that its owners can't help but take a picture of.
17. With this honeyed look, it's hard to deny him a little piece of the meal that comes out of the oven.
18. A Mastiff cross calmly resting on the terrace of his house enjoying the fresh air
19. A pyramid of dog heads curious to see everything passing on the road
20. A stuffed animal he just received as a gift from his family.

By Alexander God
Chief Editor
A graduate of a Master in Writing, Alexandre has been a dog lover since a very young age. After growing up with many dogs, this adorer of the Beaucerons unearths you every day the news that will move you and inform you about our favorite companions.