Xyla was a lovely dog, but because of her disability, no one was interested in her at the shelter. Until the day Gianna fell in love with her.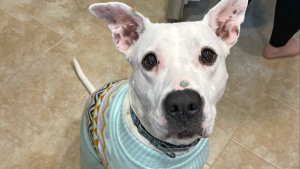 xylaformerly Aspen, is a female dog probably crossed Dalmatian. Unfortunately, dogs of this breed are more likely to be deaf, and this was the case with xyla. Because of this disability, 8 months have passed at the shelter Austin Humane Societyto Texasbefore a human takes an interest in her.
Visitors had a hard time getting Xyla's attention
The deafness of xyla is something that has frightened many visitors to the shelter. It must be said that this handicap requires adaptations, in particular a new mode of communication. At the shelter, xyla started learning sign language and was doing very well.
© Bissell Pet Foundation
Beyond the fears of adopters, the deafness of xyla also harmed him in another way. When visitors came, they could not always get his attention. It was enough that the dog did not look in their direction for it to be difficult to initiate an interaction. Visitors were therefore not very interested in her.
And then one day Gianna fell in love
After 8 months, xyla finally met the right person. It was about Gianna. "He is the sweetest and most affectionate animal I have ever met.", she told Daily Paws.
When Gianna went to the shelter, her goal was only to make a first location. But when his gaze met that of xyla, she fell in love with it. She asked to take her outside, and everything went perfectly. Gianna proceeded immediately to its adoption.
© Bissell Pet Foundation
Since xyla joined her new home, she learns to communicate with her mistress. Gianna notably equipped her with a vibrating collar to be able to call her out more easily. The 4-year-old dog and her 22-year-old owner get along wonderfully. "She is really amazing", said Gianna.

By Wendy Lonis
Web editor
An agricultural engineer by training, Wendy combines her passions for words and animals by writing for Pets-dating. A freelance web writer, she shares her home with many furry and feathered friends: an Australian Shepherd, chickens and even racing pigeons!