Find regularly technical analysis of the price of Bitcoin (BTC) and other iconic cryptocurrencies like Ethereum (ETH). But also videos to introduce you to certain technical indicators, tips or more fundamental approaches. All this with the aim of keep it clear and accessible to allow you to learn the basics of trading. And to benefit from in-depth analyzes carried out by experienced traders.
Full video of this Coin Trading analysis at the end of the article.
This week's technical analysis will specifically address the Bitcoin situation. For all that concerns The Merge stage of the Ethereum blockchainthe easiest way is to watch the video from last week which offers a complete analysis of this historic event. This is to know whether or not to buy ETH before this date..
Bitcoin – Consolidating
In weekly time unit, Bitcoin price has been easing since mid-June in a phase of low volatility. With Bollinger Bands closing in. And a price located in a range between the support level of $18,500 and that of $25,000 as resistance.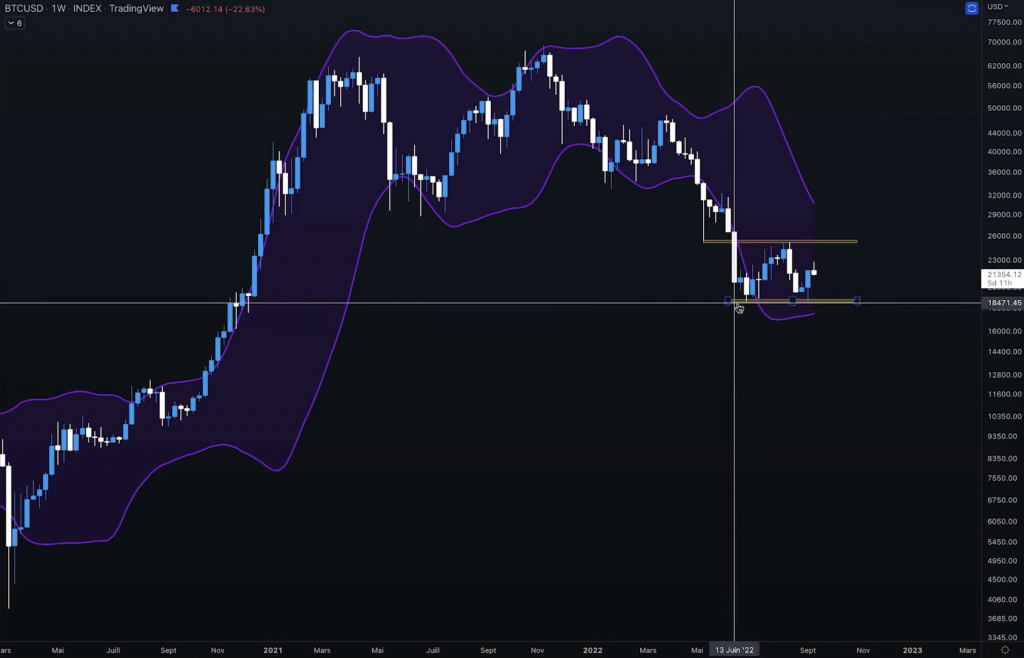 A consolidation between these two levels that allows the Bollinger bands to get closer. With, the prospect of an upper limit which comes to be placed on this resistance of $25,000. And, in this case, a configuration very conducive to the implementation of a buy signal in the event of a breakout from the top of these two fateful thresholds. Even if, for the moment, this period of consolidation has not yet lasted long enough for this scenario to be really interesting.
Bitcoin – Nothing to do at the moment
In 3D unit of time, it is possible to see in a little more detail this range located more precisely between the resistance of $25,300 and the support of around $18,500. With, in this case, Bollinger bands already parallel. But whatever happens, nothing to do as long as the BTC remains registered between these two terminals. Because it will only be a question of false signals and parasitic noise.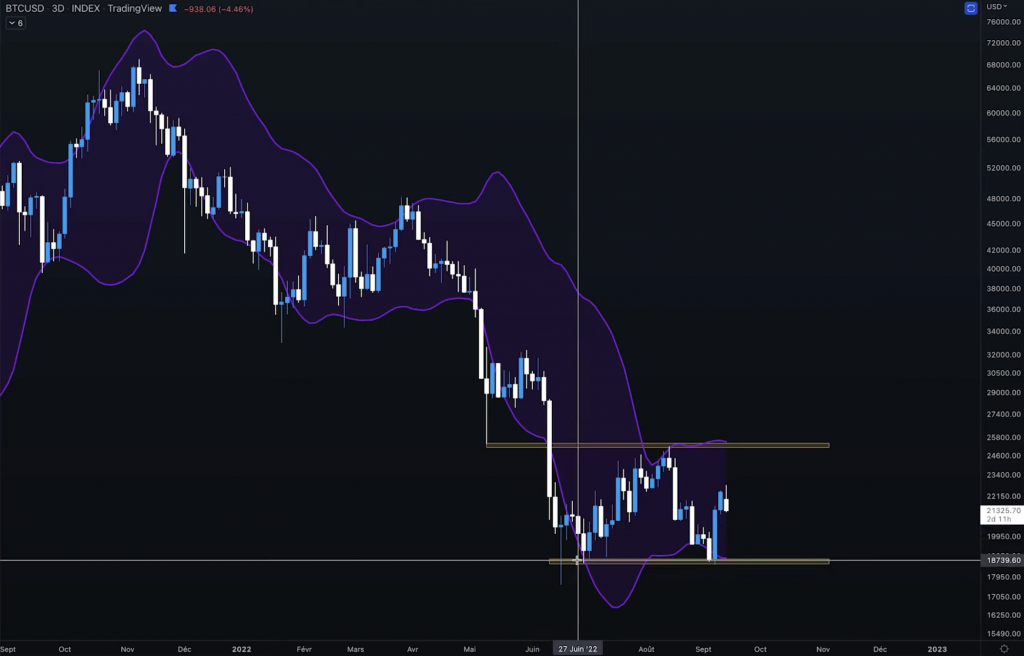 In the event of a further move closer to the resistance level, it might be possible to witness a sell-off. But conversely, a drop towards the current support would be an opportunity for significant entries from the buying side. And once again, it is better to stay away from BTC as long as no real signal is validated.
Ethereum – Stuck in a horizontal channel
A fairly similar situation for the Ethereum cryptocurrency, in weekly time units. With Bollinger Bands getting closer, but not flattened enough to be interesting. And a range installed for a little over a month, that is to say for much less time than for Bitcoin. Because it started in mid-July of this year.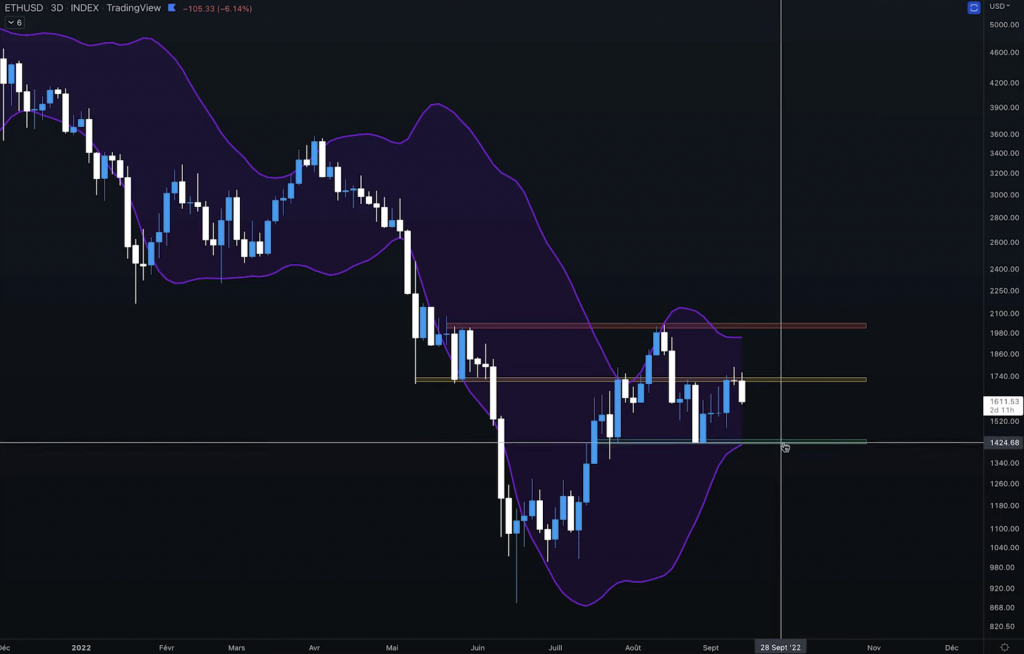 A period of ETH price consolidation that has therefore not lasted long enough. Because it would take at least a few more weeks for it to become really interesting. With levels to watch for Ether, the support located at $1450 and the resistance around $2000. And, at the center of it all, an intermediate pivot zone, formerly support and currently resistance, around $1730.
Not much can be done as long as ETH prices remain stuck in this horizontal channel. Although it is still possible to attempt purchases when approaching the $1450 support. Because it will also coincide with the lower limit of the Bollinger bands. Or try to resell when approaching resistance in order to make short-term profits. But nothing really thrilling until a real bullish impulse breaks this range from above.
Ethereum PoW – Still in sharp decline
Regarding the ETHW cryptocurrency, related to the Proof of Work fork of the Ethereum blockchain, the situation has only deteriorated since last week. With a price in free fall since its listing. And, therefore, an absolutely unattractive airdrop operation considering its current price close to $21.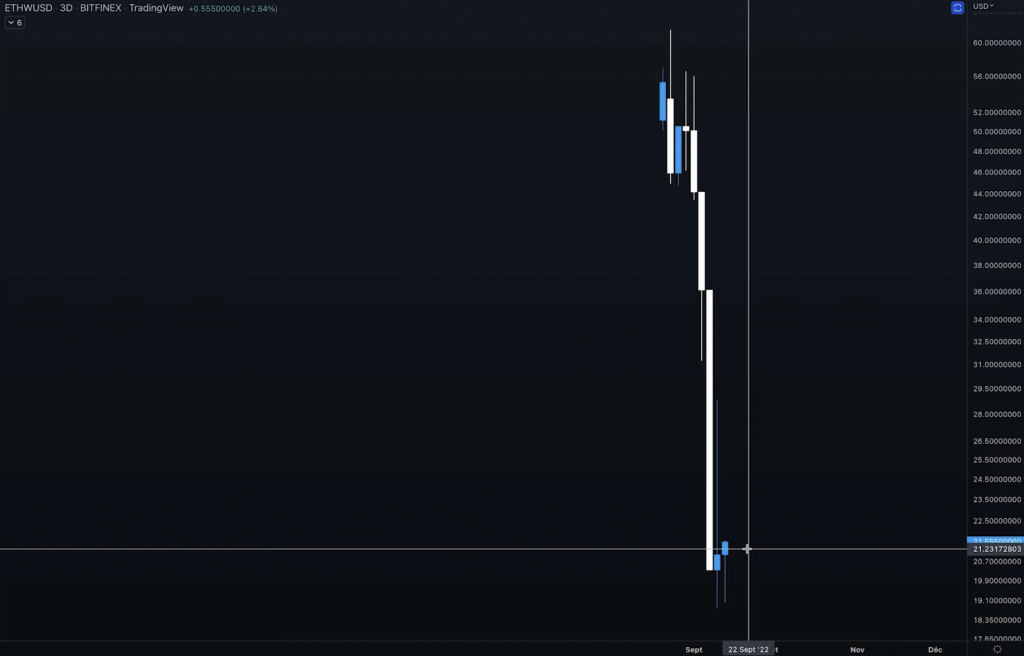 In effect, the price of this cryptocurrency has simply been halved since last week. That is to say significant losses for investors who have tried their luck over this period. With, at the same time, an ETH price also falling. So a double penalty which indicates thatit is better to stay away from this operation. Except in the case where you already hold ETH in your wallet, which must however be eligible…
Altcoins vs Bitcoin – New ATH for the TOTAL2!
The curve of TOTAL2, the cryptocurrency market excluding Bitcoin, is not really different from the current trend. With a correction initiated since mid-2021. And a period of consolidation installed since June of this year. But things are quite different in the case of the TOTAL2/BTC chart. That is, the performance of altcoins against BTC, very interesting to watch to analyze the market trend.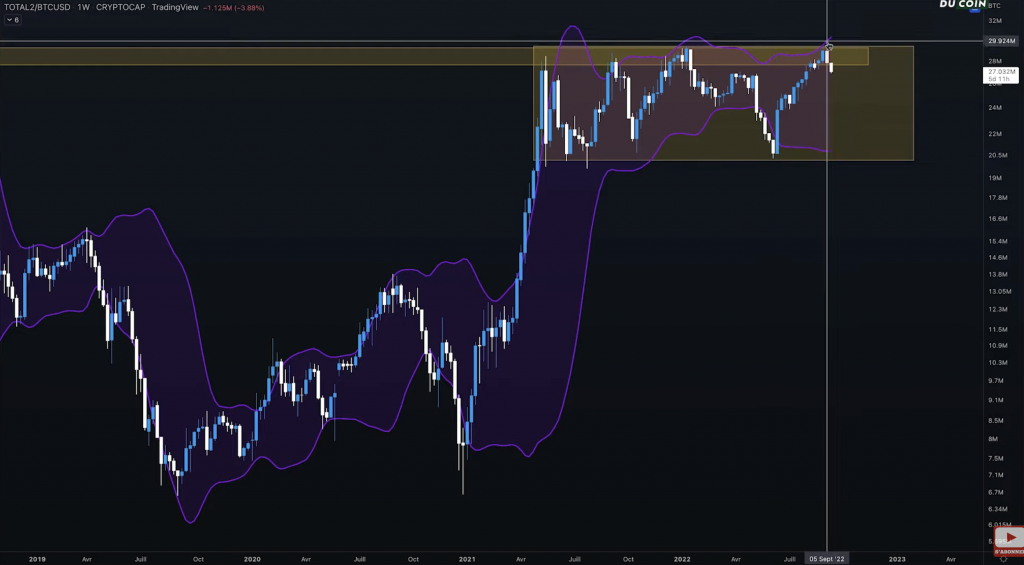 A historic high (ATH) was reached in January 2018. And a period of consolidation has been visible since 2021, with resistance tested many times without ever having been crossed (just like the support). But the real important information is that a new ATH was just performed last week on this chart. With a wick, but no fence, which broke that fateful level for the first time in over 4 1/2 years.
A positive signal, even if it has not been transformed into a buy. With a return to the downside which once again moves this objective away for an indefinite period.. Knowing that in the event of a break through the top of this resistance, this would give a very important buy signal on the altcoins market. With the start of an altseason which would allow them to outperform – even more than currently – Bitcoin. But it's only a postponement…
Whether it's bitcoin or altcoins, there are still plenty of opportunities in the cryptocurrency market. Because the real question is to enter at the right time, but also to know how to resell before the drop. This is why Coin Trading and its 100% automated algorithmic trading tool are there to allow you to carry out these operations in the best possible conditions. This in order to always be positioned on the best projects, whatever the market trend.
Trading cryptocurrencies carries a high level of risk, and may not be suitable for everyone. It is recommended that you fully inform yourself of the associated risks, and only invest amounts that you can afford to lose.
The content offered on the CryptoActu.com site is solely for educational and informative purposes. They do not in any way constitute recommendations and cannot be considered as an invitation to trade financial instruments.
The CryptoActu.com site does not guarantee the results or the performance of the financial instruments presented. Consequently, we decline any responsibility in the use which can be made of this information and the consequences which can result from it.