While AVAX enjoyed a rebound in confidence this summer, prices are back on key support. Analysis of the situation.
AVAX – Weekly Chart: Last Chance Support
The summer had been very beneficial for AVAX, which offered itself a rebound worthy of a dream: 128% increase in only eight weeks! But autumn has put lead in the wing of the Avalanche project.
Currently, prices are back at square one, on key support located at $14.75. This same support that had saved prices in June is now under strong pressure. With sellers who continue to lead the dance.
If this support is broken on the downside, expect a further bearish acceleration towards $9.45a low point found in July 2021…
The indicator EMD shows that sellers remain strong. Its -DI signal line (in red) is well above the +DI (in green). Reversing this trend will require buyers to show some strength. In effect, the volumes are at their lowest and the lack of enthusiasm explains this weakness for AVAX.
As a form of resistance, Weekly Tenkan always drags prices down. To give hope of a rebound, it will be necessary break it to try to return to the $23.63 zone. This is the first major resistance in the medium term.
AVAX – Daily chart: Buyers miss out
The daily chart does not yet give a real bullish signal. Many major resistances await buyers, who have been absent since this summer.
Indeed, the Ichimoku indicator signaled this sell alert, through an exit from the bottom of the price cloud, at the end of August.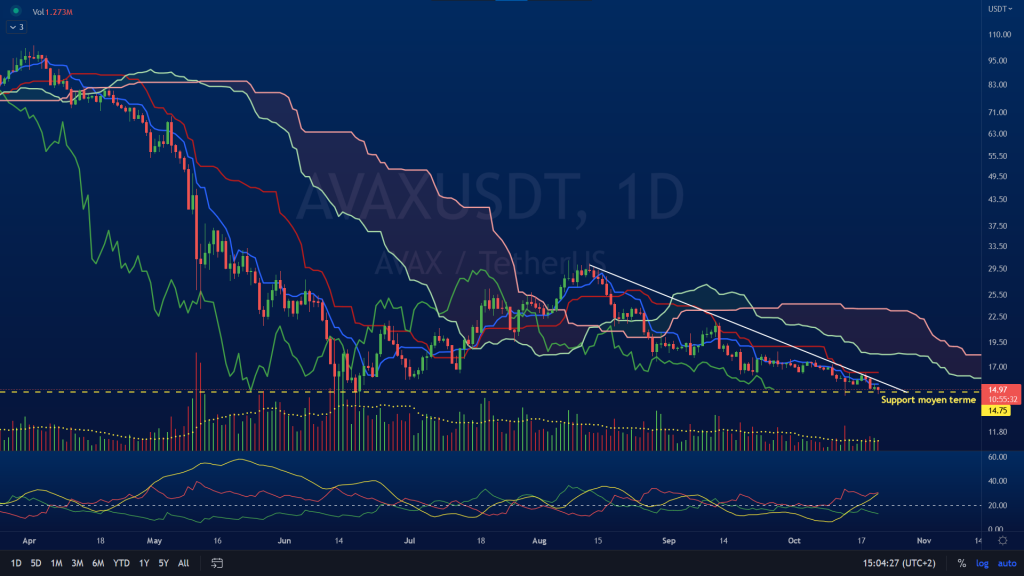 Looking at the daily chart, several major resistances are easily observable. First of all the descending trendline has been blocking prices for almost three months, at the time of this writing. Watch out, because the current price construction indicates a descending triangle pattern. A continuation pattern of this downtrend. It will be confirmed by a break of the key support, at $14.75.
Also, the indicator EMD here too confirms the strength of the sellers. With the bullish move of its bearish signal line (-DI).
To give buyers a glimmer of hope, it will take break this bearish trendline upwards as well as the daily Kijun. This will initially allow you to look for the bottom of the daily cloud, located at $18.20.
We must be extremely careful on this last point. Because the general situation is not improving and no positive news is coming to fuel the market to hope for this type of bullish correction. It is necessary to wait for a lull in the rise in key ratesto relieve risky markets.
Is it possible to be a winner every time? Whether the price of Bitcoin is in great shape, or going through turbulence, CryptoTrader™ allows you to increase your chances of success through its 100% automated algorithmic trading tool.
---
Trading cryptocurrencies carries a high level of risk, and may not be suitable for everyone. It is recommended to be fully informed of the risks associated. And only invest amounts that you can afford to lose.
The content offered on the CryptoActu.com site is solely for educational and informative purposes. They do not constitute recommendations in any way.. They don't pmay be considered as an inducement to trade in financial instruments.
The CryptoActu.com site does not guarantee the results or the performance of the financial instruments presented. Consequently, we decline any responsibility in the use which can be made of this information.. Et of the consequences that may ensue.