Café de la Bourse put The Coca-Cola Company under the microscope. We looked at the group's mission and ambitions, the details of its activities and its financial performance. We also looked at the technical configuration of the Coca Cola share price to best prepare for a possible investment. Find our analysis and our opinion on the Coca Cola share
The Coca-Cola Company: mission and ambition of the global beverage giant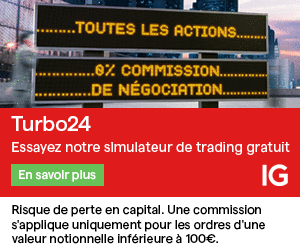 On May 8, 1886, Dr. John Pemberton served the world's first Coca-Cola at Jacobs Pharmacy in Atlanta, Georgia. From this emblematic drink, the Coca-Cola group has expanded its offer to become a global giant in soft drinks. More than 1.9 billion of the group's drinks are enjoyed every day in more than 200 countries. The group employs 700,000 people and works with more than 225 bottling partners in the service of its mission: "Refreshing the world. Make a difference"
Indeed, the vision of The Coca-Cola Company is to create drinks around this notion of refreshment, both bodily and spiritual. Making a difference is for the company to succeed in offering these drinks that make the daily lives of consumers happier, while respecting communities and the planet.
Read also our guide How to invest in US stocks on the stock market
What is The Coca-Cola Company's strategy?
There is a significant long-term growth opportunity for the Coca Cola Company. In terms of markets, commercial beverages account for approximately 70% of beverage consumption in the developed world, and the company's volume share is only 14% in non-alcoholic beverages. Furthermore, in developing and emerging countries, commercial beverages account for only 30% of total beverage consumption and the volume share in these countries is about half that of developed countries. The business opportunity is therefore huge.
To serve its mission and seize these growth opportunities, The Coca-Cola Company articulates its development around several initiatives.
Developing successful brands
The Coca-Cola Company relies on very strong brands that are passionate about consumers and their daily lives and ensure cutting-edge excellence in ingredient selection, innovation, design and advertising campaigns. The company gives its brands both a global ambition and a local specificity. Finally, The Coca-Cola Company invests in quality bottling to bring brands to life in every market in which they operate.
Sustainable development
The Coca-Cola Company claims to be a science-based company, and the company includes science in all of its strategic decision-making. Thus, the future challenges of nutrition and sustainable development are fully integrated into the company's development initiatives: on the one hand, reducing sugar in beverages; on the other hand, making packaging a circular economy thanks to 100% recycling to allow reuse and achieve "zero waste". Finally, the group wishes to reduce its water consumption, its carbon footprint, and source its supplies in an ever more sustainable and ethical manner.
A better future based on sharing
The Coca-Cola Company strives to take care of all stakeholders in its ecosystem: the company invests in the personal development and talent of its employees and promotes diversity and inclusion within its ranks. The company aims to create value for customers of all sizes, as well as to support local communities while providing a return to its investors.
Also consult our Responsible and sustainable finance file: how to invest in SRI?
Strengths and Weaknesses of The Coca-Cola Company
Also discover our article Competitive advantages: Porter's 5 forces
What are the activities of the Coca Cola Company?
The Coca-Cola Company is the world's leading producer and marketer of non-alcoholic beverages. The group's brands are known worldwide and operate across the globe.
What are the brands of the Coca Cola group?
The group has 200 main brands, divided into five categories: Coca-Cola Trademark; sparkling flavors; the hydration, sport, coffee and tea range; plant-based nutrition, juice, dairy and beverage and finally emerging beverages. Some of the most famous brands include Coca-Cola, Diet Coke, Coca-Cola Zero, Fanta, Fresca, Schweppes, Sprite, Thums Up, Aquarius, Ciel, Dasani, AdeS, Del Valle, fairlife, innocent, Minute Maid and many others
How does Coca Cola sell its drinks?
The sale of drink concentrates and syrups (56% of sales)
The Coca-Cola Company generates net operating income by selling concentrates and syrups to licensed bottling partners. Bottling partners combine concentrates and syrups with still or sparkling water and sweeteners (depending on the product) to prepare, package, sell and distribute beverages.
Bottling and direct sale of beverages (44% of sales)
Finished product activities consist primarily of company-owned bottling, sales and distribution operations
Geographical breakdown of Coca Cola sales
Coca Cola's sales break down as follows: USA (33.7%), EMEA (17%), Asia Pacific (12.1%), Latin America (10.7%), North America – excluding the USA – (0.6%) and finally the Rest of the World (25.9%).
Read also our file How to invest in the stock market with a securities account?
Fundamental Analysis of The Coca-Cola Company
Result Coca Cola of 2th quarter of 2022
The Coca-Cola Company released results for the 2th quarter of 2022 that demonstrate resilience in the market amid global operational and macroeconomic challenges.
Revenue up 12%
Turnover increased by 12% to reach $11.3 billion. Sales were strong across all lines of business. The company gained market share in all non-alcoholic beverages.
Operating margin down to 20.7%
The operating margin amounted to 20.7% compared to 29.8% the previous year. This compression is mainly due to the impact of the acquisition of BODYARMOR, the general increase in operating costs and higher marketing investments compared to the previous year.
Net income and earnings per share down
The group's net income amounted to 1.9 billion dollars and EPS fell by 28% to 0.44 dollars, in particular due to an unfavorable exchange rate effect of 9 points.
Cash flow down
Cash flow from operations was $4.5 billion year-to-date, down $1.0 billion from a year earlier.
Also discover our file How to invest in the stock market in 2022? Our step-by-step guide
Technical Analysis of The Coca-Cola Company
Graphic analysis of the Coca Cola share price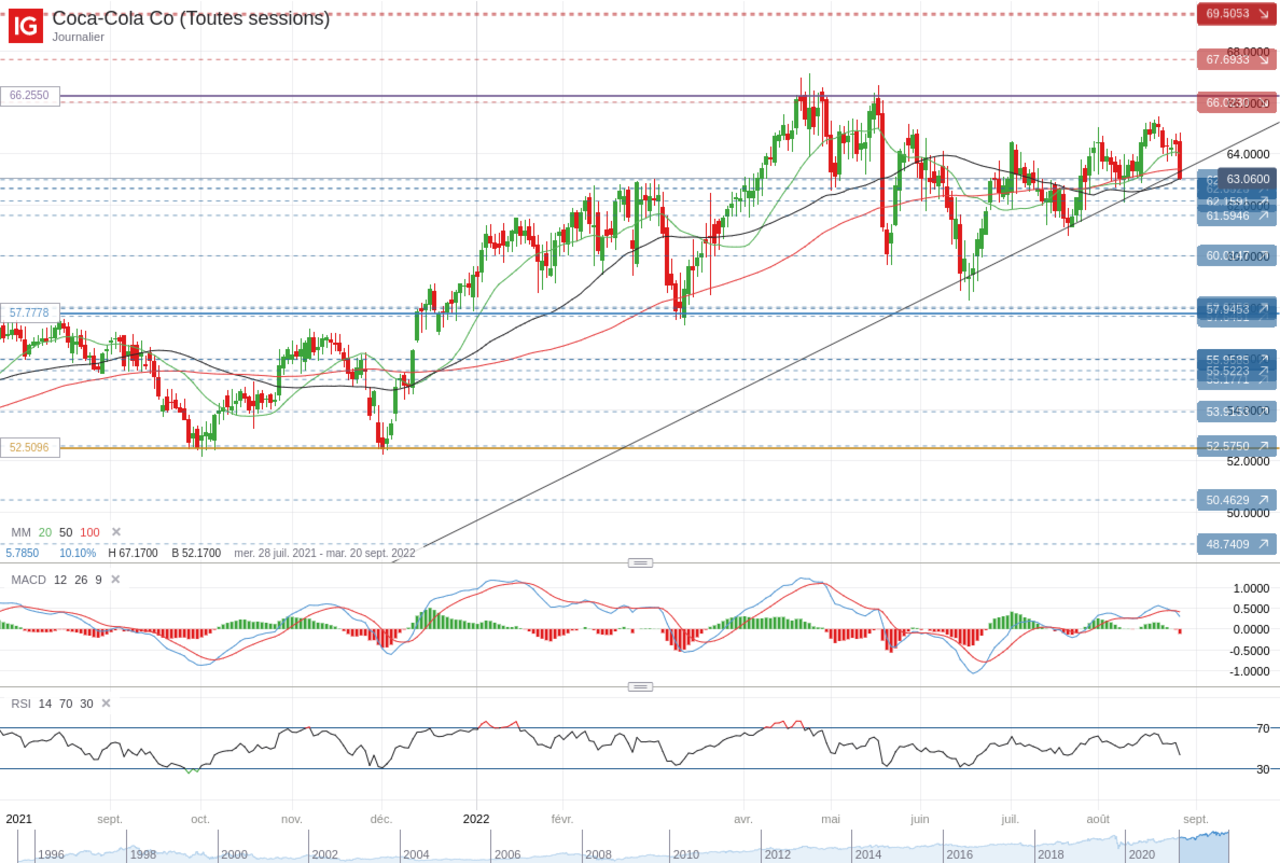 Source: Café de la Bourse, graph built on IG, data for information only
Technical analysis of the Coca Cola stock
Over the last 12 months, The Coca-Cola Company stock rose by 12.3% leaving behind several levels of support to support its rise: the level of 52 dollars (in yellow on the graph) then the level of 57.7 dollars (in blue on the graph). The Coca Cola stock is trading on a short-term uptrend (black slant on the chart) and will soon attempt to retest an important level of resistance at the $67 level (purple on the chart). In the short term, the trend is rather negative, however, with the Coca Cola share price below the 20-day moving average, in particular due to a drop of 2.4% on Friday August 26th. This drop follows statements by Jerome Powell which caused the financial markets to fall globally. The MACD gives no further indication: it is positive and below its signal line. The RSI is in the neutral zone. The oblique progression support will be tested in the next sessions. If it falls below this support, the Coca Cola stock price could continue to decline to the next support level at $57.6.
Read also our article Graphical and technical analysis: how to use it on the stock market?
Our opinion on the Coca Cola stock
The Coca Cola Company is a legendary stock, darling of famed investor Warren Buffett, who has been investing in the company for many years. It is a company with a solid model, robust financial results and which constitutes a real bulwark against the prevailing economic uncertainty. In times of inflation, Coca-Cola's pricing power and dividend payout also make it a solid option for investors looking for stable returns, as evidenced by the company's latest earnings report, which mainly reports improving sales trends and stable profitability despite soaring costs.
Read also our guide How to become a Stock Trader
Turbo Stock Coca Cola
To trade Coca Cola shares, contact your stock broker. For example, you can choose to use a derivative product such as Turbo call or Turbo put to take advantage of bullish and bearish fluctuations in the Coca Cola share.

Image source: pexels
All of our information is, by nature, generic. They do not take into account your personal situation and do not in any way constitute personalized recommendations with a view to carrying out transactions and cannot be assimilated to a financial investment advice service, nor to any incentive to buy or sell instruments. financial. The reader is solely responsible for the use of the information provided, without any recourse against the publishing company of Cafedelabourse.com being possible. The responsibility of the publisher of Cafedelabourse.com can in no way be held liable in the event of error, omission or inappropriate investment.
All trading activity involves risk. The order execution service through a limited risk account presents a risk of loss of the capital invested.
Turbos are complex financial instruments with a risk of capital loss. Losses can be extremely rapid.