News hardware Electric car: Tesla's Chinese competitor already overtakes Elon Musk with a flying car
As electric and hydrogen cars begin to invade the automotive market, some manufacturers are already looking even further. XPeng, the Chinese competitor of Tesla and Elon Musk, is already in the future with his flying car!
XPeng: the Chinese Tesla
As we are just beginning to discover the full potential of electric cars and hydrogen cars, it would seem that the day we will see cars flying in our cities is closer than ever. This futuristic technologywhich could one day carry people far above the traffic – which continues to grow – has already been imagined in several cinematographic or video game works such as Blade Runner or Cyberpunk 2077. Well, fiction is no longer so far from reality sincea Chinese company has just tested the first electric flying taxi in Dubai. And it's just amazing.
As Asia's largest flying car company, XPENG AEROHT, a subsidiary of Guangzhou-based Chinese electric vehicle manufacturer XPeng, has been pursuing its goal of building the world's first flying car for years.. The company, which planned to deliver a first ready-to-use model in 2024, has already managed to demonstrate the first public flight of the XPeng X2 model – an experimental flight had already taken place in 2021 on the side of China.
XPeng X2: an electric and flying car
The XPeng X2 is an electric two-seater vertical take-off and landing aircraft (eVTOL) which takes off using eight propellers, two at each corner of the vehicle. He adopts a closed cockpit with a minimalist teardrop design and a aspect – which reminds us of the best hours of science fiction – aerodynamics for maximum flight performance. The Chinese firm has also worked a lot on the weight (560 kg) by playing with carbon parts, for more lightness.
On the dimension side, the XPeng 2 is 497 centimeters long, 478 cm wide and 136 cm high and can fly with a maximum additional load of 200 kg (760kg), i.e. two passengers and their cargo. He should be able drive at 130 km/h and have a range of approximately 35 minutes at an altitude of 1000 min addition to being able to travel approximately 600 km on the road. But perhaps the most striking feature is its ability to fly autonomously. In effect, passengers can perform start-up, take-off and landing procedures safely at the touch of a button.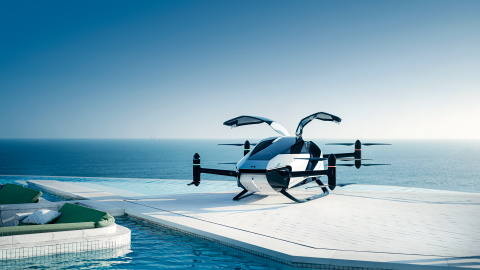 For now, there is very little information circulating on the price and availability of the XPeng X2, which is understandable, since it's still in the early stages of development. However, at Tech Day 1024 hosted by the company last fall, it was announced that its sixth-generation flying model would arrive in 2024 and could cost close to €140,000. According to rumors, this model will also be able to drive on the highway.
We never make concept cars or cars just for show, the whole exploration is to bring them to mass production and change our lives in smart mobility – He Xiaopeng, President of XPeng.
According to U.S, a 2024 release date seems a bit too optimisticespecially given the many hurdles that will need to be overcome before such a vehicle is allowed to take flight. Mainly because many tests and safety reviews must be carried out before an aircraft, or a flying car, receives a certificate of airworthiness and is then allowed to be produced in series.. In any case, one thing is certain, the flying car is now a reality, even if it will be some time before we see them circulating between our buildings.