The boss of Tesla and SpaceX hopes to mass produce his robot soon. It evokes industrial uses, but also personal ones.
Elon Musk presented two prototypes of the humanoid robot Optimus on Friday, which his company Tesla hopes to produce one day by "millions" to "transform civilization" and build a "future of abundance" where poverty will have disappeared.
"Bumble C", an early version of the robot, arrived cautiously on the Californian stage where the annual "Tesla AI Day" conference was held on the advances in artificial intelligence of the electric car manufacturer. The robot sketched a hand salute and video showed it bringing a package to an employee and watering plants.
Employees also rolled out a more advanced Optimus prototype, with fewer exposed cables but still unable to walk on its own. Elon Musk acknowledged that other organizations have designed more sophisticated robots, but "they lack a brain and they don't have the intelligence to move on their own (…) And they are very dear," he said.
The Tesla boss is aiming for a robot that will eventually cost "probably less than $20,000" and will be designed to be replicated in "millions of units". He is betting on first deliveries within three to five years. The conference should serve to recruit more engineers to achieve this goal, and thus "fundamentally transform civilization".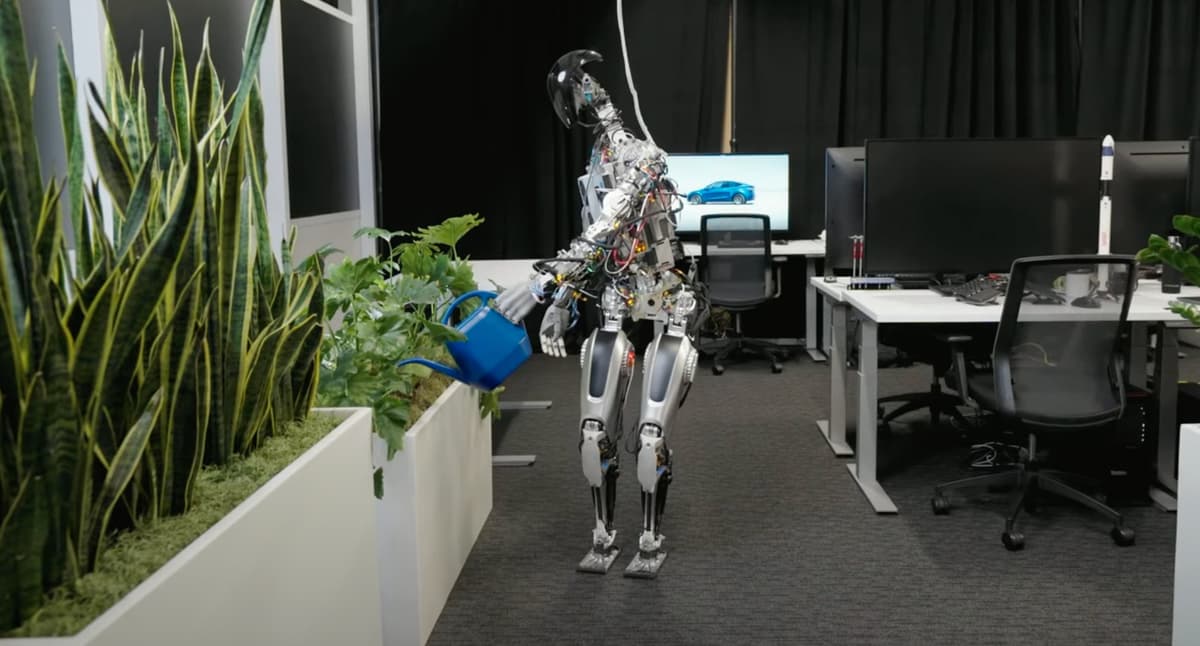 The multi-billionaire presented in 2021 this project for a robot that can perform repetitive tasks instead of humans.
"It means a future of abundance, a future where there is no poverty, where people will have what they want in terms of products and services", detailed the boss of SpaceX (rockets) and Neuralink (brain implants), never stingy with extraordinary predictions.
"A lot of people think we're just a cool builder", but Tesla is also "the leader in artificial intelligence", assured Elon Musk.
Since the announcement of the humanoid robot, "Musk faces the skeptics," noted analyst Dan Ives of Wedbush Securities. "The market is focused on improving batteries, on the production capacities of new factories (Berlin, Austin) and on competition from all sides for electric cars. Not on humanoid robots".
Elon Musk plans to test Optimus in the group's California factory to prove its usefulness. He hopes that the robot will one day be "friendly" and that chatting with him will feel "natural". He also promised security features, to avoid a "Terminator-like scenario".
"Naturally there will be a 'catgirl' version of our Optimus robot," tweeted the whimsical entrepreneur during the conference, with a photo of a female silhouette from behind, camped in front of a line of metal robots.
He also said, twice, that it was "essential" that the company building this robot be listed on the stock exchange, "because if the public does not like what Tesla is doing, the public can buy shares and vote differently".
"It's very important that I can't just do whatever I want," he added with a laugh. This comment will not go unnoticed in the context of the conflict between him and Twitter, and should lead to a high-stakes trial in mid-October.
The richest man in the world signed a social network takeover contract in the spring, before reconsidering his decision in July. The platform is suing him to force him to honor his commitment. Elon Musk had said he wanted to make Twitter a private company (not listed on the stock exchange), which would therefore escape any external control.