After weeks of downtrend, IOTA seems to have found relatively solid medium-term support. Who could be its base for a future rebound… If the general situation does not worsen! To analyse.
IOTA – Weekly chart: Few medium-term bullish signals
For a year now, prices have continued to retrace towards ever lower lows.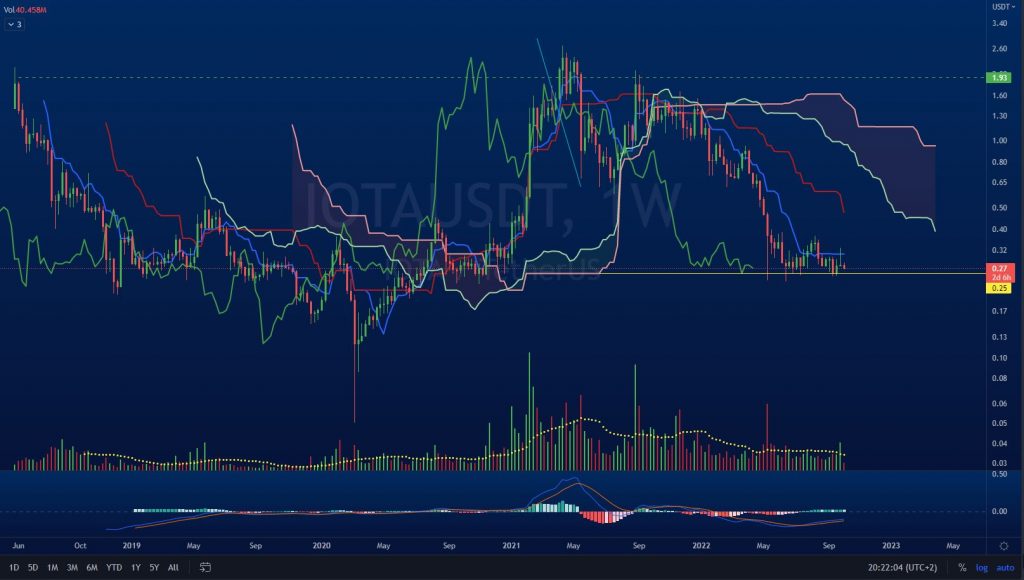 Finally, this statement is no longer valid since a support managed to stop the infernal fall. This medium, identified by the Weekly SSB at $0.25, allows you to blow. The situation of recent months still remains under pressure as no sign of technical rebound given.
Indeed, it would be necessary to break upwards the Weekly Tenkan to begin to see a hint of rebound. So break that resistance to $0.31. For the moment, it is not on the agenda with prices which lack vigor and volume to build this type of reversal. We should start by finding a more stable global situation to release this pressure on buyers.
The indicator ROI shows no change and remains in its selling zone. Note the positive divergence which goes in favor of the medium term support. And which shows that this one actually blocks sellers.
Note that if the support mentioned above breaks, it will be necessary tobuy the $0.22 as the next zone of respite…
IOTA – Daily chart: Still under the cloud!
While an attempt to rebound had been initiated this summer, prices turned violently to finally return to square one, i.e. the medium-term support mentioned abovet.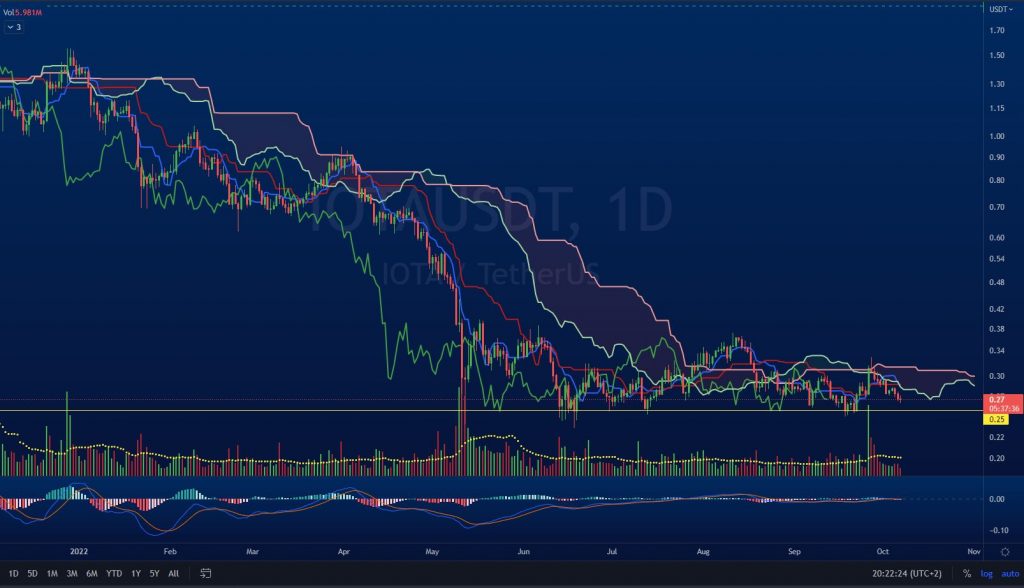 Ichimoku shows that the situation is not very attractive for buyerswith candles that get stuck by the daily Tenkan and who did not manage to pass through this fine cloud, built at the end of September.
The indicator MACD also remains negative, with moving averages converging down again.
A first sign of a rebound will therefore be given by a return above this daily cloud. This signal must be confirmed by the daily Lagging Span which will also come out from the top of the cloudin order to be certain of its veracity.
From a fundamental point of view, this rise will take place after clear announcements from central banks and confirmation that inflation is starting to be brought under control, which is far from being the case at the time of writing. Indeed, many macroeconomic figures appear and still do not show any real sign of positive development. Which also shows that the Federal Reserve is not ready to reduce its strike force.
---
Obtain the same results as trading professionals without investing your own time? It is now possible with CryptoTrader™, a powerful fully automated trading solution.
Trading cryptocurrencies carries a high level of risk, and may not be suitable for everyone. It is recommended to be fully informed of the risks associated. Et only invest money that you can afford to lose.
The content offered on the CryptoActu.com site is solely for educational and informative purposes. They do not constitute recommendations in any way.. They cannot be considered as an inducement to trade in financial instruments.
The CryptoActu.com site does not guarantee the results or the performance of the financial instruments presented. Consequently, we decline any responsibility in the use which can be made of this information and the consequences which can result from it.