Sarah risked her life on the highway to save that of an abandoned kitten.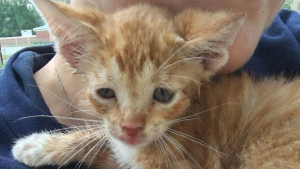 The story that unites Fred and Sarah seems to be due to fate. Sarah arrived at the right place and at the right time to save the life of this feline.
Fred had been abandoned in the middle of a busy highway
One fine day, when Sarah was at work, his colleagues offered him lunch at the restaurant. "It was fate" told Sarah at Newsweek. "The day I found Fred, I was pretty adamant that I would have lunch at work, but my colleagues convinced me to go."
While they were driving on the way to the restaurant, Sarah and his colleagues spotted an animal in the middle of the highway.
© redredfredfred / Instagram
It was about Fred, a soggy ginger kitten. For Sarah, who loves cats, it was unimaginable to pass by leaving the poor feline at the mercy of road traffic. She stopped the driver on the side of the road, and went to get the kitten at the risk of her life. Her colleagues tried to hold her back, frightened by the danger she was in, but the woman was determined.
Sarah managed to get Fred to safety
Luckily, neither Sarah neither Fred were not injured. As for the kitten, it's even a miracle that he survived. Sarah immediately took him to safety in the car. He was wet and shivering, and she did everything to warm him up.
After some discussion, a colleague from Sarah decided to adopt Fred. Once back home, the feline rescuer couldn't contain her tears. "I wasn't sure why and other people have speculated that maybe it was the trauma of the situation, but if I'm being honest it was probably also partly due to the fact that Fred was not with me", she confessed.
Fate brought Fred and Sarah together a second time
However, the incredible story of Fred and Sarah don't stop there. Only a few months after the adoption of the feline, the colleague of Sarah said he couldn't take care of it anymore. The young woman did not hesitate for a second. "I was delighted. I literally told him I could be at his house in 15 minutes."
Today, nothing will separate Fred and his saviour. They live happily together and are very close. The cat even seems to smell when Sarah is saddened by the recent death of his mother. In this case, he comes to snuggle up to her and comfort her. A relationship in which each brings a lot to the other!

By Wendy Lonis
Web editor
An agricultural engineer by training, Wendy combines her passions for words and animals by writing for Pets-dating. A freelance web writer, she shares her home with many furry and feathered friends: an Australian Shepherd, chickens and even racing pigeons!