With the €50,000 demo account offered by Libertex, you can explore all trading possibilities without putting your funds on the line.
Trading has gained ground over time, but it is not as simple as it seems. Indeed, most platforms only allow you to trade with real assets, which is very risky, especially for beginners.
What if we told you that you can trade stocks, cryptocurrencies and other assets without buying them? Well, that's what Libertex, a CFD trading platform, promises. How does this platform work? And how does it help beginners learn CFD trading? Explanations.
Libertex in a nutshell
Libertex is a fully online based CFD trading company. From commodities to cryptocurrencies, through currencies and ETFs, the platform offers a whole range of assets to its users. Today, Libertex has millions of customers in the European Economic Area (EEA) and Switzerland.
Moreover, the company has established itself as one of the leading CFD trading platforms. Thanks to the quality of its services, Libertex has acquired a great reputation with the most prestigious organizations. Today, the platform has more than 40 international distinctions and awards to its credit.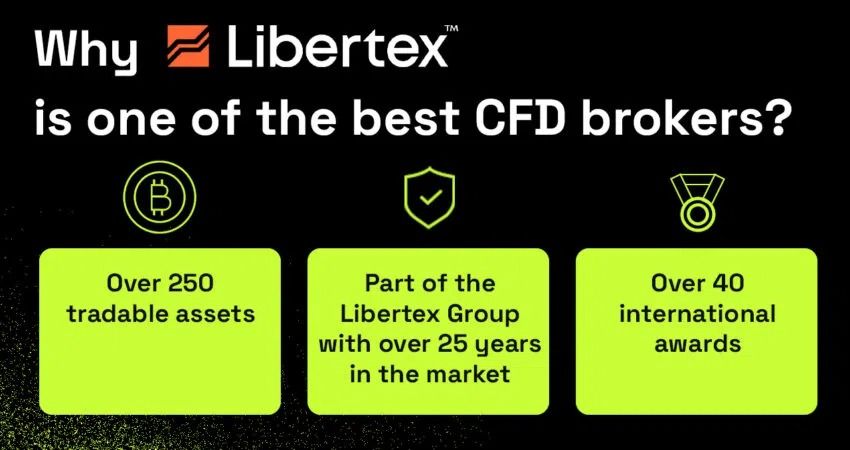 A €50,000 demo account for beginners
Learning and mastering CFD trading does not happen overnight. It is therefore not recommended to put your capital at stake without knowing the basic rules of trading. Hence the usefulness of a free demo account like that of Libertex.
In order to help its users take their first steps into the world of CFD trading without risking their money, Libertex offers a completely free demo account.
As soon as you open a demo account, you get a fictitious balance of €50,000. You can use this amount to test your strategies and learn smoothly. Indeed, the demo account offers exactly the same features and strategies of the real accounts.
Although the amount available in the demo account is not real, you can use it for all your transactions. In a real account, on the other hand, you have to use your own funds in your trading activities.
To recap, the demo account allows you to trade securely while accessing the full features of the platform. Additionally, you can also learn more about CFD trading by accessing educational content from Libertex.
How to use Libertex?
Libertex is one of the easiest platforms to use. Here are the steps to follow to register and start trading on Libertex:
Register or create an account on Libertex
Fill in your details, then verify your account
If you are new to CFD trading, use the demo account
You can use the €50,000 demo account to practice trading
With the demo account you can also develop your trading skills and improve your strategies.
Then try to familiarize yourself with Libertex user interface and trading tools
Once you're ready to deposit funds into your account, choose your payment method
The platform offers several payment methods, including credit/debit cards, bank transfers, PayPal, Skrill, Neteller, and Token.
Although most trading platforms offer demo accounts, their functionality is often limited. On many platforms, you will only have access to full functionality when you make your first deposit.
On the other hand, Libertex gives you access to all the features, professional tools and strategies without any deposit. Rather interesting, isn't it?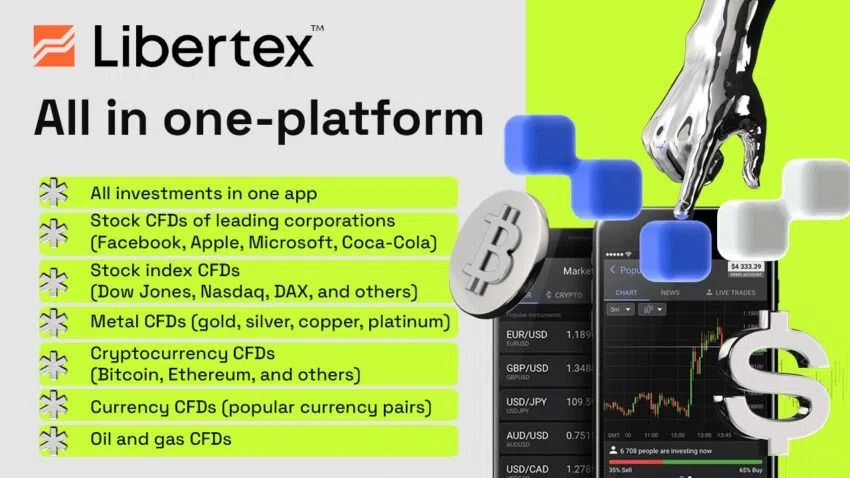 What about crypto trading?
As the digital asset market gains momentum, Libertex has also thought of crypto traders. The platform offers a commission-free crypto CFD trading service with tight spreads.
To benefit from this offer, users must deposit a minimum amount of €100. Note, however, that Libertex does not charge any fees or commissions on the initial deposit, which means that it can be fully used by traders.
Furthermore, the platform also offers tight spreads. In the world of trading, we speak of a tight spread when the difference between the buyer's price and the seller's price is minimal.
Although Libertex puts all the necessary tools at your disposal, be aware that trading CFDs is both complicated and risky. Before you start trading, take the time to learn and do your own research and consider all the risks associated with CFDs.
final verdict
The risk of capital loss is one of new traders' worst nightmares. Therefore, using a demo account, which provides you with all the necessary tools for trading, can be of great help to you.
The €50,000 demo account allows users to use all the features of Libertex without any restrictions. The fictitious balance will help you master all the tools and strategies.
With Libertex, you will only need to deposit real money when you have mastered trading. If you are looking for a platform that is reliable, easy to use and backed by years of experience, Libertex is what you need.
Frequently Asked Questions (FAQ)
The functionality of the Libertex demo account is almost identical to that of the real trading accounts. The only difference is that demo accounts carry no risk, since you are not investing real money in them.
€100 is the minimum amount to deposit in real Libertex accounts.
Since the funds available in the demo account are fictitious, you cannot withdraw them.
The CFD trading demo account offered by Libertex is one of the best on the market.
By using a demo account, you do not risk losing your money.
Yes, the only difference is that when using real accounts you are trading with real money, while demo accounts use fictitious assets which have no real value. Aside from that, the market circumstances that apply to demo accounts are identical to those of live accounts, making it the best way to test your trading strategies.
Disclaimer
All information on our website is published in good faith and for general information purposes only. Any action taken by the reader based on information found on our website is entirely at their own risk.