eToro is a multi-asset trading platform like no other. Its DNA is based on social trading with Copy Trading as its flagship feature. If you are a young investor and want to know more about it, discover without delay our detailed opinion on Copy Trading at eToro.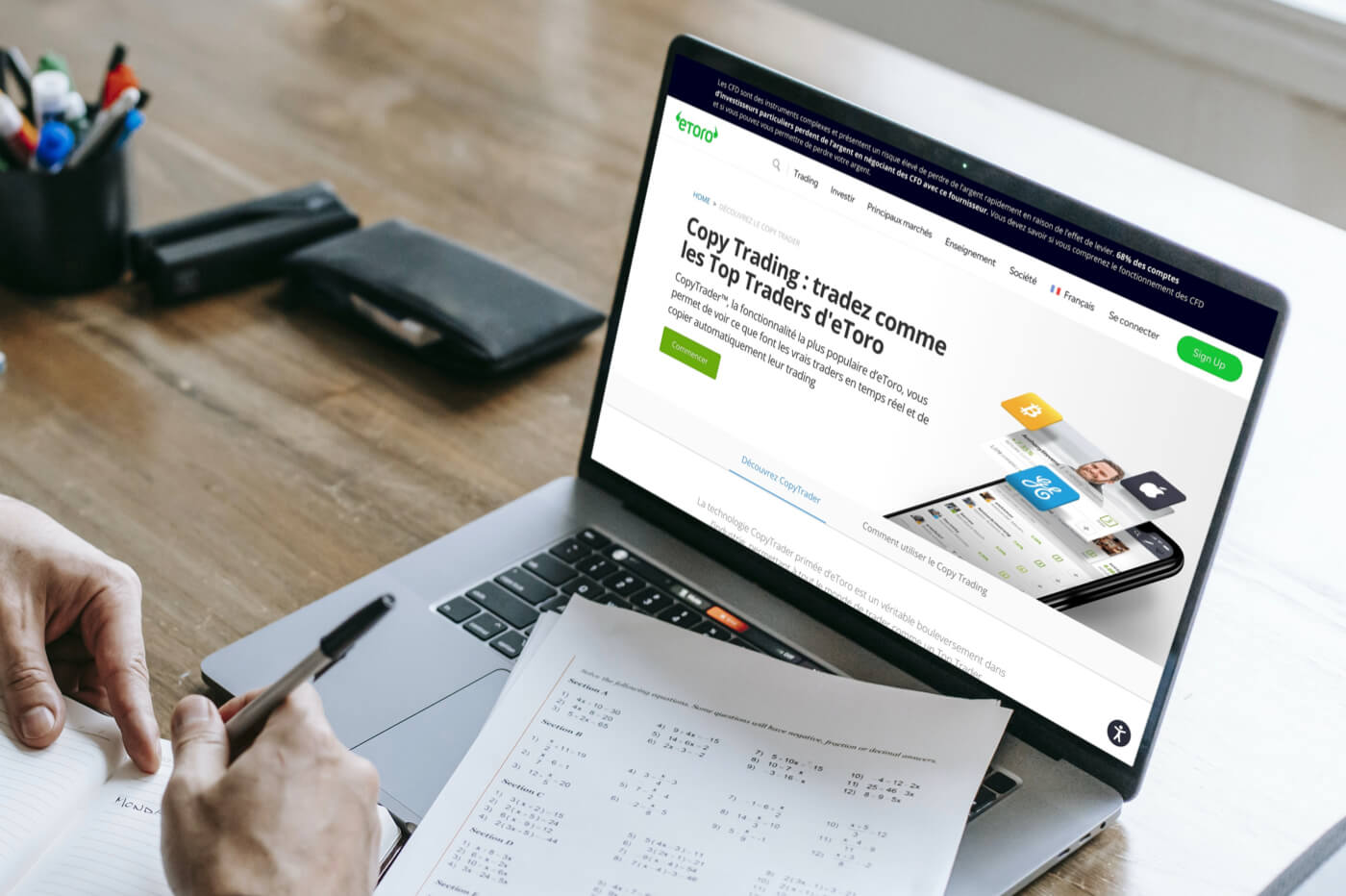 A few words about eToro
eToro was created in 2007 and quickly became the reference trading platform with more than 20 million users in 2022. eToro allows diversified investments in many asset classes: stocks, crypto-currencies , ETFs, commodities and indices. But what makes eToro famous are its innovative social trading features, especially with Copy Trading. This unique concept in the world was born in 2010. eToro was also rewarded the following year by winning the Finovate prize.
In 2022, investors have varied profiles. More and more beginners also want to grow their money. Copy Trading is therefore timely since it opens the doors of trading to everyone.

1
At eToro, 78% of retail investor accounts lose money trading CFDs. You need to know if you understand how CFDs work and if you can afford to lose your money. On eToro, cryptocurrency trading is done in CFDs.
What is Copy Trading?
Copy Trading is a free feature that allows users to copy the actions of other traders (Top Traders) in an automated way. By reproducing to the letter and in real time what other traders are doing, you don't have to worry about the investment strategy. It's a real chance because you can come across experts from major investment banks who share their expertise and advice on eToro. It is simply impossible from your traditional bank.
By offering open profiles with a news feed inspired by Facebook, eToro reassures many users. You even have the option of very simply getting in touch with the Top Traders to discuss and ask them questions by posting a comment on their profile. Like on social media, you will be alerted with a notification when a trader you follow posts something or replies to your message.
Copy Trading therefore offers the possibility of investing in markets even if finance is not your area of ​​expertise.
How Does Copy Trading Work?
Copy Trading is particularly intuitive and open to all users. You simply have to go to the "Research" tab on your personal space and then look for the "CopyTrader" section. You will then have access to the profiles of the best investors. By clicking on it, you will be able to consult their portfolio in detail, their performance over the year and month as well as the average risk indicator of their investments. The risk scale is between 1 and 10. There are also other very interesting data such as the number of people who copy the Copy Traders. This can be a good indicator of success.
It is possible to refine the search for investors by adding filters such as the trader's country of residence, the markets in which he has invested, the returns obtained, the level of risk of his investments or the number of copiers.
By copying a trader, you will immediately see the gains or losses made. Note that all costs (spread rollover) are already deducted. The profit you see is therefore the net amount earned.
Tutorial: how to copy an investor?
In order to formulate an objective opinion, we tested Copy Trading at eToro. Although the process is very simple, we will explain step by step how to copy a Top Trader on eToro.
Find a trader to copy
The first step is to create an account on the platform and then have your profile verified. If you want more details on how to proceed, you can consult our detailed opinion on eToro.
Open an eToro account
At eToro, 78% of retail investor accounts lose money trading CFDs. You need to know if you understand how CFDs work and if you can afford to lose your money. On eToro, cryptocurrency trading is done in CFDs.
Then you can look for a trader whose strategy and results look good to you. Even if you are not experienced in the field, the user profiles on eToro are made so that you can see key information at a glance. In this case, we recommend that you consult:
the biography of the traders (they explain their strategy and usually give tips for copying)
performance, portfolio breakdown and additional statistics (Statistics tab)
the average annual risk indicator
the markets it has invested in (active trades can be found in the Portfolio tab)
the number of copiers
Invest an amount for the copy
With these elements, you already have a good overview of the trader's profile and his strategy (long or short term in particular). When you have found a profile that suits you and meets your expectations, click on "Copy". You will then need to set the amount you want to allocate to the copy. Of course, you will have to deposit funds in your account beforehand. For your information, bank transfer is preferred because it incurs no fees for transfers in USD and very low conversion costs for transfers in another currency.
Be aware that you can only copy 100 traders at a time and that the minimum amount to invest to copy someone is $200 (about €183). You will also have to define a Stop Loss which will aim to stop the copy if the value falls below a certain amount. For example, copying for $1000 and setting a Stop Loss of 50% means that copying will stop when the value reaches $500. This is a good way to secure your trades. You can also choose to copy trades that are already open or not. In general, traders indicate in their presentation whether it is recommended to copy trades, the value of the Stop Loss to be set and the minimum duration of copying.
Observe the results
Once validated, the copied trader will appear in your portfolio, along with any gains or losses recorded. At this point, you don't have to do anything else except check the status of your capital from time to time. If the trader you are copying has invested in stocks or cryptocurrency trading with a long-term focus, be patient and don't panic at the slightest change. Don't forget that the Stop Loss is there to cover your back.
By clicking on the toothed wheel on the right, you can adjust some parameters. It is possible to stop the copy at any time or to pause it, to add or withdraw funds or to configure a new Stop Loss.
If you are unsure of yourself, you can first use your virtual wallet. Indeed, eToro allocates to all its users $100,000 of virtual capital that you can use as you see fit. This is a great way to understand how eToro Copy Trading works. You can then replicate your actions with real money afterwards.

Our feedback on eToro Copy Trading is more than positive. Operation is particularly intuitive. Everything has been thought out for those new to investing and this is a real asset in our opinion. The copied traders guide the copiers which greatly facilitates the process.
Become a Top Trader on eToro with the Popular Investor Program
You now know what Copy Trading is and how to copy a trader on eToro. By now, you might be wondering what motivates some members to share their expertise and unveil their strategy in the open.
eToro's Copy Trading system works so well because it has implemented the Popular Investor program which rewards traders based on their assets under management and equity. There is a monthly fee, but also other benefits such as free withdrawal (normally set at $5), tickets to sporting events, free subscriptions to certain newspapers like the Times, etc.
On each Copy Traders profile, there is a star next to the profile picture. The color of the star corresponds to different levels of expertise:
Blue for Cadet status
Red for Champion
Green for Elite
Black for Elite Pro
Of course, the higher the level, the greater the benefits. To qualify for the title of Top Traders and receive income through this activity, there are a few conditions to respect such as maintaining a daily risk score of 6 maximum and respecting the leverage restrictions for all statuses. The Cadet level is also obtained by counting a copier for 2 months minimum and the Champion status 5 copiers for 4 months. Finally, Elite and Elite Pro status must gather certain management training qualifications and commit to keeping their copiers informed by posting to their newsfeed at least once a month.
Discover eToro
At eToro, 78% of retail investor accounts lose money trading CFDs. You need to know if you understand how CFDs work and if you can afford to lose your money. On eToro, cryptocurrency trading is done in CFDs.
Note that all users with a public profile can be copied. It is only access to the Popular Investor program (and remuneration) that is subject to the requirements mentioned above. Our opinion on this program is very positive since it is thanks to the latter that this service works so well.
Smart Portfolios, another feature offered by eToro
eToro is an innovative platform and it proves it once again by offering Smart Portfolios. These smart portfolios group together different assets (often focused on market segments) intended for long-term investments. Smart Portfolios are designed by eToro's investment teams after extensive research.
By investing in Smart Portfolios, you will automatically copy the portfolio's investments. Here, the minimum amount to invest is $500. There are no management fees.
Thanks to this approach, users can diversify their investments very easily, with just one click.
Conclusion: CopyTrading, the must-test feature at eToro
With its social collaboration and Copy Trading proposal, eToro is shaking up trading codes, previously reserved for finance experts. Copy Trading allows you to duplicate the open positions of traders of your choice in real time.
Copy Trading is a free feature which therefore has significant advantages, including the simplicity of implementation and the fact that you do not have to worry about your open positions. In return, you must give complete trust to the trader you are copying because you are entrusting him with your money. This is why it is important to carefully study the profile of traders upstream.
Open an eToro account
At eToro, 78% of retail investor accounts lose money trading CFDs. You need to know if you understand how CFDs work and if you can afford to lose your money. On eToro, cryptocurrency trading is done in CFDs.
In our opinion, this is a major advance in the world of investments since everyone can now have access to it, without necessarily having advanced knowledge in the field.