News hardware Tesla: Elon Musk finally releases information on the android Optimus
Elon Musk, CEO of Tesla, has accustomed us to crazy announcements over the past few years. When he announced in August 2021 that Tesla was working on a humanoid robot, everyone thought it was a prank. But a year later, the joke doesn't really seem to be one anymore.
The Terminator by Tesla, a very real project
If you know Elon Musk, you know that the multi-billionaire at the head of Tesla often has delusions of grandeur when it comes to the future of us all. Involved in many business sectors through these companies, the businessman likes to promise a lot of things without ever being certain that they will one day see the light.
So when in August 2021, Tesla announced that it was working on a humanoid Bot, almost everyone believed in a new hoax which would allow the firm to drive up its share price. But the more we advance, the more it seems that this famous humanoid robot is indeed a very serious project that Tesla is looking into.. Elon Musk also likes to recall that his company is one of the most advanced on the subject of artificial intelligence.
Tesla AI Day pushed to Sept 30, as we may have an Optimus prototype working by then

— Elon Musk (@elonmusk) June 3, 2022
It is therefore since June 2022 and a tweet from the billionaire himself that the android Optimus definitely no longer seems to be a joke. In this one, Elon Musk says a prototype of his humanoid robot could be unveiled on September 30, 2022on the occasion of the world day of artificial intelligence (AI Day).
What will Optimus look like?
After this famous tweetwhich did not fail to awaken the twittosphere, speculations as well as announcements have gone well. It is therefore difficult to separate the true from the false on the appearance and characteristics of this humanoid robot. Here is a small jumble of information that has circulated in recent months:
1.77m
56kg
Black and white jumpsuit
Smooth face with black makeup
Top speed of 8 km/h
Mobile joints (neck, legs, arms, etc.)
Capable of lifting objects of 20 kg and loads up to 68 kg
So it's hard to know if all this is true or totally false, especially since Elon Musk recently tried to cover his tracks during an exchange with youtuber Dave Lee. In any case, we should have the answers to our questions during the probable announcement that Tesla and its CEO will make on September 30.
Optimus will carry your boxes
While the characteristics of this robot are still a bit uncertain, Elon Musk recently penned an ad for China Cyberspace, China's cyberspace administration magazine, lifting the lid on some of the uniqueness of the android. Through this action, the businessman certainly wants to find new investors ready to follow Tesla's projects. He writes :
Today's cars are closer and closer to intelligent robots. In fact, in addition to cars, humanoid robots are also becoming a reality. The Tesla Bot is close to the size and weight of an adult, it can carry or pick up heavy objects, walk quickly with small steps, and the screen on its face is an interactive interface for communicating with people. You might be wondering why we designed this robot with legs. Because human society is based on the interaction of a bipedal humanoid with two arms and ten fingers. So if we want a robot to adapt to our environment and be able to do what humans do, it needs to be roughly the same size, shape, and capabilities as a human.
Statements which therefore corroborate rather well the information which had been able to leak left and right since the tweet posted last June. The businessman also explains what the robots made by Tesla will be intended for in the future, which he hopes to be near.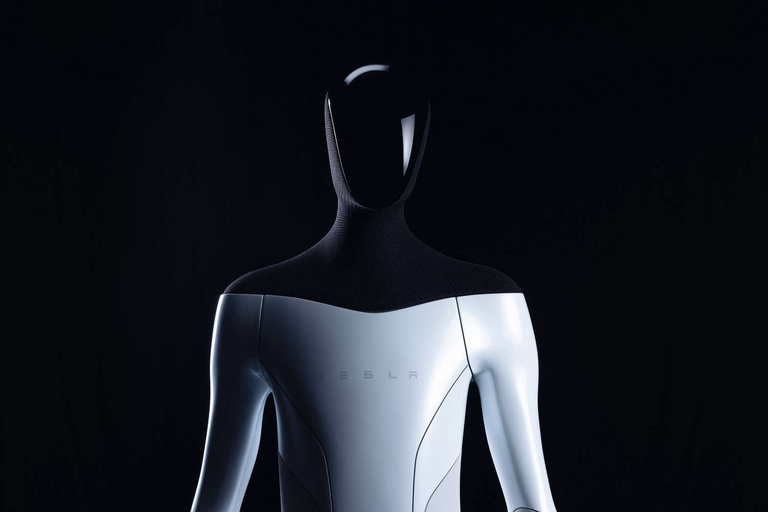 Tesla Bots are first positioned to replace people in repetitive, boring and dangerous tasks. But the vision is that they end up serving millions of households. Cooking, mowing the lawn and caring for the elderly.
He ends his talk on Optimus by revealing his plans for the future and the course of action he wishes to follow with Tesla.
We plan to launch our first prototype humanoid robot this year and focus on improving the intelligence of this robot as well as solving the problem of large-scale production. Thereafter, the usefulness of humanoid robots will increase every year as production increases and costs decrease. In the future, a home robot may be cheaper than a car. Maybe in less than a decade people will be able to buy a robot for their parents as a birthday present.
Obviously, Elon Musk therefore seems to have very specific plans for the android Optimus. If some may still doubt the usefulness that these will have, it is legitimate to think what our world will look like when these machines will appear. Since there is almost no doubt that this day will come. Hoping that humanity will not experience The Last Judgment which was described in Terminator 2.