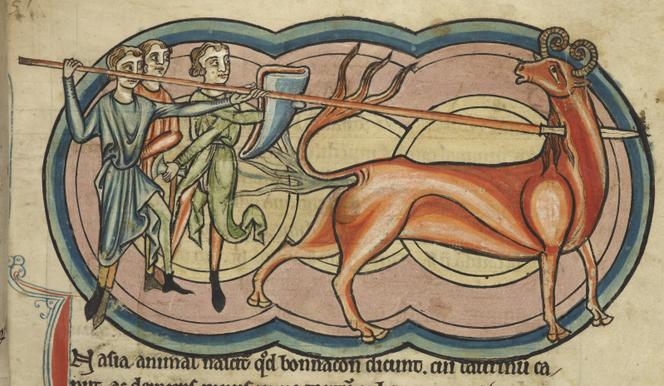 "We are talking about a beast of Peonia [un royaume antique situé au nord de la Macédoine] named Bonase, with a horse's mane and otherwise resembling a bull; his horns are so twisted that they cannot be used for him to fight, so he has recourse to flight and in fleeing he throws a dung at a distance of three judges, the contact of which burns those who attack him like a kind of fire. continue. » This text by Pliny the Elder (Natural History, Book VIII/16, translation Emile Littré), written in Ier century of our era, is one of the best known telling the story of this extraordinary animal, named bonachus, bonnacon, bonacon, bonaconn, bonase, bonasus or even Onachum.
Fabulous by its main mode of defense, but also by its range: the jugère is a Roman unit of measurement of surface (and not distance). It is estimated today at 25 ares. Three judges would therefore equal approximately 7,500 square meters: one can imagine the devastation of such a fart! More reasonably, Christian Heck and Rémy Cordonnier, in their Medieval bestiary (Citadelles & Mazenod, 2011) convert it to Roman feet (104 in this case), which still gives the respectable distance of 3 meters.
Pliny drew his information from Aristotle (384-322 BC), probably the first to have mentioned the bonacon in his animal history (Book II, chapter II/17 and Book IX, chapter XXII/1): "There are animals that have both a forked foot, a mane, and two horns, which are curved towards each other. This is the case of bonase (…). He is about as big as a bull, and he is more massive than an ox, because he is not elongated. Its well-spread skin could accommodate seven people. Besides, he looks a lot like an ox, except that he has, like a horse, a mane that goes down to his shoulders. »
On two world maps
His concern comes from men who like him very much, although he is difficult to catch: "His leather is resistant against blows. Its flesh is of a pleasant taste; and also they chase him. When he is injured, he begins to run away without stopping until he can't take it anymore. It defends itself by kicking and throwing its droppings up to a distance of four fathoms. [soit environ 7,30 mètres]… His excrement burns to such an extent that the hair of affected dogs falls dry. »
The picture-makers of the Middle Ages, who did not hate scatology, had a field day
The fabulous beast is also cited by Jacques de Voragine (1228-1298) who mentions it in The Golden Legend, in the chapter he devotes to Saint Martha. She must face a monster lurking in a marsh on the banks of the Rhône, between Arles and Avignon. "A dragon, half animal, half fish, thicker than an ox, longer than a horse, with teeth like swords and as big as horns…" It is the Tarrasque of Provençal legends. But Voragine gives an indication of its origin: "He had come by sea from Galatia from Asia [l'Anatolie], had been fathered by Leviathan, a very ferocious serpent which lives in water, and an animal named Onachum which is born in Galatia. Against those who pursue him he throws, at the distance of an acre [l'arpent ayant des valeurs variables selon les époques et les régions, cela n'éclaire guère notre lanterne quant à la portée de la chose], his dung like a dart and everything he touches he burns as if it were fire. »
You have 43.88% of this article left to read. The following is for subscribers only.