The Brazilian-born journalist Paula Leite Moreira collect old photos of celebrities with their cats. These old black and white pictures are, indeed, of great interest. These are the biggest stars of the 20e century who share with us moments of complicity with their felines.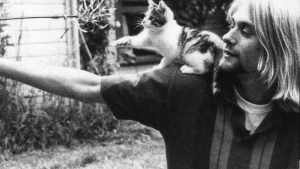 Vintage photographs of celebrities and cats are a treat. As this selection illustrates.
Here are 20 vintage photos of cats and their famous owners.
1. Ava Gardner, the American actress and her 2 cats
2. Henri Cartier-Bresson, the French photographer with his black cat
3. Celia Hammond, the English supermodel holding her cat in her arms
4. Wanda Landowska, the Polish composer who played the piano for her cat
5. John Gallico, the writer who had a cat in his hands and a second in his hood
7. Una Stubbs, the British actress who owned an acrobat cat
8. Deanna Durbin, the Canadian actress and her litter of little white kittens
9. Paul McCartney, the famous Beatles musician with his pets
10. Grace Kelly, the American actress and Princess of Monaco whose cat didn't like photo shoots
11. Janis Joplin, the American singer and musician and her cat
12. Audrey Hepburn and Mel Ferrer who adopted a cat
13. Albert Schweitzer, the German doctor who had his faithful cat as his first reader
14. James Dean, the American actor and his favorite companion
15. George Harrison, the musician and his cat biting his arm
16. Judy Garland, the American comedian who read horror stories to her black cat
17. Elizabeth Montgomery, the American actress and her magic cat
18. Clint Eastwood, the American actor and director photographed a feline in his arms
19. Mary Pickford, the American filmmaker and actress and her pets
20. Kurt Cobain playing with his kitten

By alexander god
Chief Editor
A graduate of a Master in Writing, Alexandre has been a dog lover since a very young age. After growing up with many dogs, this adorer of the Beaucerons unearths you every day the news that will move you and inform you about our favorite companions.