For 11 long years, Marshmallow had known only deprivation and suffering. It was high time for this sick and abused senior dog to get the happy life he deserved.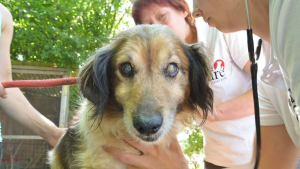 Shlomit Schatzmayr is a volunteer at the Hungarian branch of the Austrian Animal Welfare Association Animal Care Austria. In the spring of 2018, she became the foster mother of a dog in great distress, whom she named Marshmallow.
He lived in Hungary in an unhealthy home, where rubbish piled up everywhere and daily life was unbearable. Marshmallow and his congeners were left to themselves, without receiving the minimum of care, reported Bored Panda.

Shlomit Schatzmayr / Bored Panda
The veterinarians who examined him found that he suffered from a serious heart condition, most likely caused by parasites. He was also blind. For 11 years, this poor dog had only known this sad environment. He was lying on the ground, on a cold floor, biding his time. He was exhausted, in pain and resigned. At the time, his survival was seriously compromised.

Shlomit Schatzmayr / Bored Panda
Vets have done miracles
However, the veterinarians had outdone themselves. They had given him a shock treatment which had finally paid off. For many months, Marshmallow was literally between life and death, but he had finally made it.

Shlomit Schatzmayr / Bored Panda
The quadruped was getting better and better. To help him orient himself and adapt to his new environment, the house of Shlomit Schatzmayr in this case, the latter wore bells on her ankles. His female dog Aidawhom she had also rescued in Hungary, also served as her guide.

Shlomit Schatzmayr / Bored Panda
Marshmallow could finally enjoy life. He had become the most energetic and playful dog in the family. He even got into the habit of leading the way on walks.

Shlomit Schatzmayr / Bored Panda
Of course, the 11 years of ordeal had left its mark. The senior, blind dog was still dragging his heart disease and had lost a good part of his teeth. He was also mentally scarred. With time and lots of love, however, he overcame many challenges.
A fresh start for Marshmallow
That wasn't the only good news for Marshmallow. 2 years after his unexpected rescue, he was able to open a whole new chapter in his life. He was adopted by a loving family.

Shlomit Schatzmayr / Bored Panda
Shlomit Schatzmayr was both moved to see him go and happy to know that he was in good hands and that he could finally lead the happy and peaceful existence to which he and any dog ​​have the right to aspire.

Shlomit Schatzmayr / Bored Panda

By alexander god
Chief Editor
A graduate of a Master in Writing, Alexandre has been a dog lover since a very young age. After growing up with many dogs, this adorer of the Beaucerons unearths you every day the news that will move you and inform you about our favorite companions.