Impersonated identities, loss of several billion dollars due to false publications, advertisers withdrawn… Elon Musk's first days at Twitter worried the advertising community, on which the social network nevertheless depends.
Elon Musk has a big problem: himself. By wanting to break everything at Twitter as soon as he arrived, the billionaire activated a dangerous mechanism for the future of his social network. Twitter, which depends almost exclusively on its advertising revenue, is gradually alienating advertisers.
It was long thought that advertisers would flee if Twitter went too far in terms of lack of moderation… But in the end, it was two other decisions by Musk that were enough to scare them. The end of identity verification and the sale of the certified badge at 8 dollars per month have caused immense damage for certain brands which, logically, no longer want to do business with the social network… even if it means bringing about its downfall.
$20 billion loss from $8 tweet
Eli Lilly and Company is undoubtedly the best illustration of the current tensions. This pharmaceutical group, specializing in the production of insulin, is regularly criticized for the business it has done in the United States, favoring profit above all else.
A parody account, which bought the certification for 8 dollars, pretended to be Eli Lilly and announced that insulin would now be offered free, as in many other countries (this is what some elected officials want in particular Democrats, like Bernie Sanders who made it a campaign promise).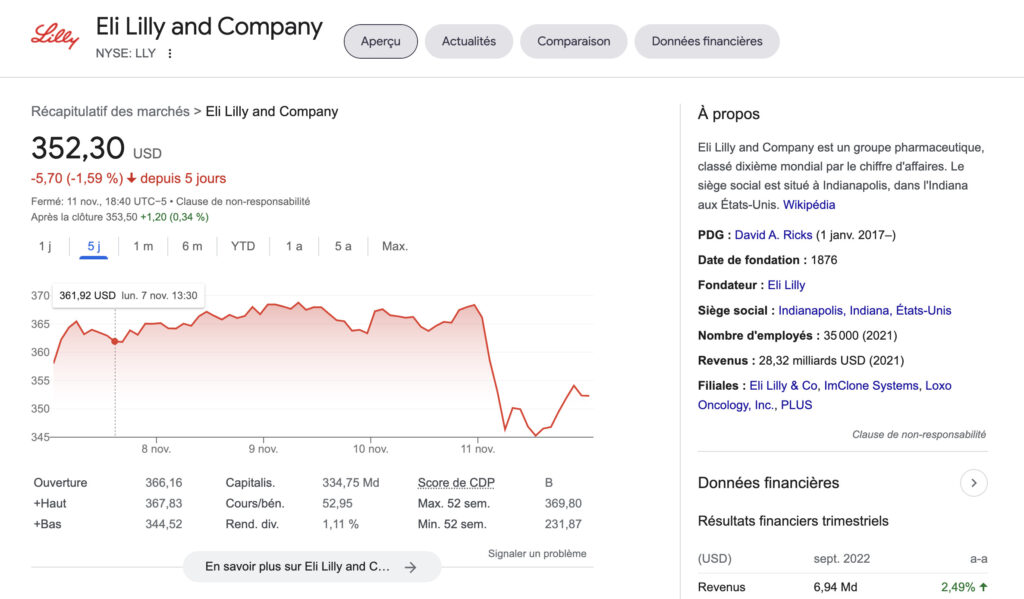 Immediate consequence, the action Eli Lilly collapsed. Investors, a priori more worried about their bank accounts than about the health of Americans, sold their shares massively. Eli Lilly's valuation plummeted by $20 billion, because of just one little parody tweet (play money, since it's just valuation). On his real Twitter, Eli Lilly then apologized, stating that he only had one official account.
How did Elon Musk react? The answer will surprise you. The billionaire decided to give a history lesson on the variation in the price of insulin… based on completely false data. Twitter's community verification system didn't hesitate to tell the owner of the social network that he was on the wrong track.
Parody, Elon Musk's huge problem
Eli Lilly is not an isolated case. If the first fake accounts have already been able to say anything with a certified badge on the platform, it is now the companies who are worried. Several fake accounts cause harm to brands, in particular by publicly exposing their past bad deeds or by organizing fake contests to hack data. Many play on the similarity between the capital i (I) and the lowercase L (l) to create perfect fake nicknames. As a result, major advertising groups, such as Omnicom (Apple, McDonalds), have recommended that their customers suspend their advertising campaigns on Twitter.
How does Elon Musk react? When he is not in provocation (we have in mind his response to a senator who complains about his impersonation, to which Musk replied that his real account already looked like a parody), the billionaire seems aware of the problem, but mostly accuses left-wing movements of harming him. While waiting for a return to calm, he announced three changes:
The return of the gray certified logo with the mention "Official"but only for brands for now.
The upcoming arrival of a "Parody" mention under verified accounts that impersonate a brand.
The possibility for a brand to certify its other accounts itselfjust to prevent an orphan account from pretending to be linked.
As a reminder, all these problems could have been avoided if Elon Musk had not decided to sell the certification for 8 dollars per month, when it once required identity verification by a specialized team. The billionaire has therefore put sticks … in his own wheels.
SpaceX to the rescue of Twitter
While waiting for a return to normal, Elon Musk is doing Elon Musk. SpaceX, its aerospace company, reportedly invested $250,000 in Twitter ads… no doubt just to cover some losses. What better than Elon Musk's money to save Elon Musk's fortune?