The world of sports is getting closer to the world of cryptos and web3. This statement is particularly true for the Formula 1 (F1), which today decided to move up a gear in this area. In fact, according to one Internet user, Formula One reportedly filed eight trademark applications. They all concern products and services related to cryptocurrencies, non-fungible tokens (NFTs) and the metaverse.
The information comes to us from a statement on Twitter from Mike Kondoudis, an American lawyer specializing in trademark law. This about what appears to be a new strategic tie-up between Formula 1 and the wider cryptocurrency industry.
"Formula One has registered 8 "F1" trademarks covering: cryptocurrencies, non-fungible tokens (NFTs), marketplaces, retail stores to sell virtual goods, financial transactions and blockchain, cryptocurrency trading, mining … and more. »
F1 – Filing of trademarks, cryptos, NFTs and metaverses
The eight applications were reportedly filed with Office American of the patents and of the brands (USPTO). This is the administrative body responsible for issuing patents and trademarks in the United States. Still according to the lawyer's statement, the deposit was made on October 5th by Formula One Licensing B.V.., a Formula One group company located in the Netherlands, which claims ownership of the marks relating to Formula One and the F1 logo.
Moreover, he managed to get the serial numbers of the brands, which he also shares on twitter: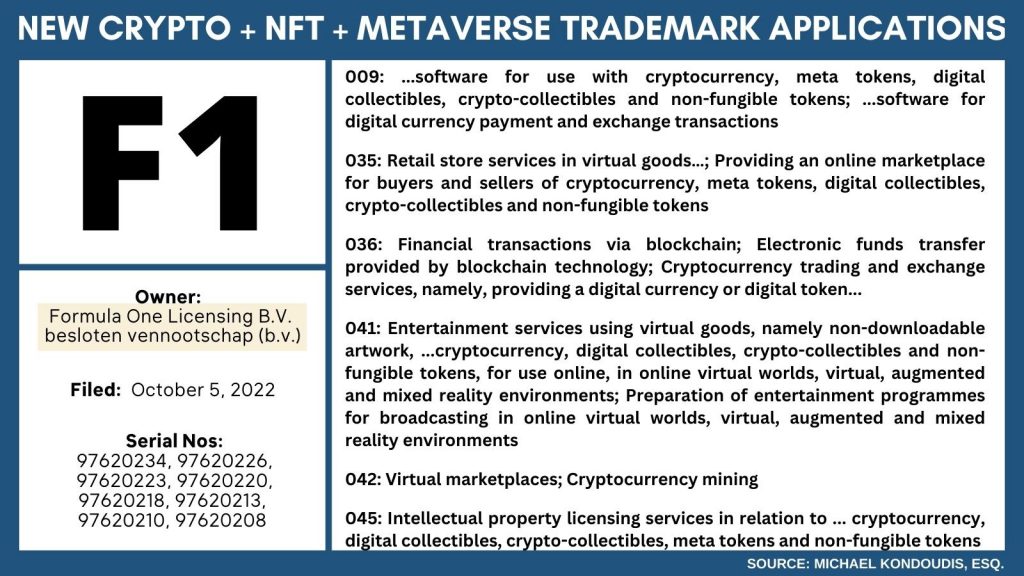 At the moment, very little information is available on Formula One's real intentions. However, it is common knowledge that F1 wishes get a metaverse which would certainly include non-fungible tokens bearing the image of famous racing cars.
F1 – A dive into Web3 and cryptocurrencies
It should be noted that this rapprochement between the world of racing, Web3 and cryptocurrencies is not recent. Indeed, several teams – including RedBull and Alpine for example – have forged partnerships with companies in the crypto industry. It is for this reason that we see some racing cars sporting advertisements containing the name of a cryptocurrency exchange platform (Crypto.com, Binance, Kraken etc). Similarly, last May Crypto.com created a collection of non-fungible tokens on the occasion of the F1 Grand Prix (GP) in Miami.
These reconciliations are beneficial for the crypto industry, because millions of fans support and follow F1 all over the world. AND by dint of seeing advertising campaigns and initiatives such as the creation of a collection of NFTs related to the race, it is very likely that fans will be interested in them in the future.
"We have over half a billion passionate fans who support the world's best riders and manufacturers. »

Formula One
Thanks to Bitcoin and the lightning network, activity is resuming in El Salvador. Prepare your suitcases and fill your wallet! Register now on the PrimeXBT platform to buy the king of cryptocurrencies (commercial link)